The sheer variety of rare and unusual pieces here is mind-blowing. Between the huge warehouse in Chicago's West Town and the online catalog, this architectural antique store is like a museum where everything is for sale.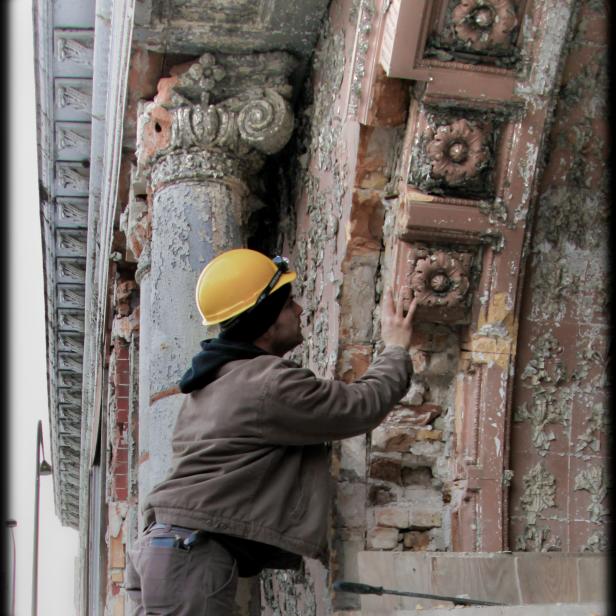 Eric Nordstrom
Eric Nordstrom, founder of Urban Remains, on a salvage at the 70-story YWCA hotel at 830 S. Michigan Avenue. He's touching a deep relief salmon colored terra cotta rosette block, part of the ornamented doorway of the 1895 building.
From stained and leaded glass windows, to historic building hardware and 1920s Farie lamps, Toledo stools and industrial tables, antique electrical devices, the odd medical cabinet and old service station signs, it's here, or among more than 16,000 items cataloged on the Urban Remains website. The search is for art. Buyers with $5,000 or $15,000 or $80,000 to spend ask: What piece will offer me the beauty or history or whimsy I want to live with? "People want something they're not going to be able to find anywhere else," says general manager Brian Janusheske. Then this must be the place, a vision conjured by Eric Nordstrom, a hybrid man part archeologist, art historian and scientist (he holds a MS in molecular biology).
"I'm a picker, hoarder, collector," says a black beanied Nordstrom in a promotional video.That's the CliffsNotes version. The Lacrosse, Wis., native also has more than a glimmer of romantic urgency about him, like a man having all but the last chip of a rare cuneiform. He can recite the lineage of a piece, chapter, verse and syllable, and writes the narrative of each object's DNA in dense, meticulous descriptions for the exquisite online catalog. "Even if it's a doorknob, I'll say, Okay, it was taken from the David C. Cook mansion. This doorknob was on the second floor bedroom. It was made by this company. Here's a picture of the house that it was taken from. And people really dig that narrative," says Nordstrom. "The story means everything to me." So protean is his knowledge, auction houses solicit him for information on pieces, says Janusheske.
The majority of these rescued items come from wreckers who call Nordstrom about upcoming demolitions. Or he'll buy out factories liquidating their assets, where he finds industrial artifacts. "I definitely have taken my science background and used it toward architectural salvage. There's a lot of complexities. It takes a lot skill," he says. "Like with plaster. You really have to understand how it was put in before you take it out. I have a huge intensity toward learning about the buildings." Nordstrom, who does the photo documenting, has by his estimation more than 300,000 images in his archive.
It's obviously a calling. While in graduate school, a typical weekend meant exploring abandoned buildings in Milwaukee, Chicago or New York. "I was living a kind of dichotomous lifestyle," he says. "I'd come back with a suitcase loaded with Victorian tile and doorknobs." By the time he finished his degree at the University of Minnesota, ducked out of a Ph.D program and moved to Chicago, he had storage facilities all over the Midwest. He opened Urban Remains in 2006 and has been principal salvager on some of Chicago's most glorious buildings: The aforementioned David C. Cook mansion; the candy factory turned George Westinghouse High School in East Garfield Park. The 31-building Michael Reese Hospital took nine months. "I spent hours researching [Reese] because there are multiple architects. Walter Gropius. Schmidt, Garden and Martin did some of the buildings. I mean, that was just an enormous undertaking."
Today, the insanely passionate Nordstrom is developing Bldg. 51 American Building Artifact Museum and Gallery, home to several items in his personal collection. The museum "revolves around Frank Lloyd Wright, Louis Sullivan, high-end folk art. You know, stuff like that."
Asked what was the very first item he placed in his collection, the one that stoked the first glimpse of a long journey? He becomes quiet, draws out the moment, and then begins to trace shapes in the air, as if he wants to show you the pictures in his head. "When I was working at that restaurant in high school," he says finally. "This establishment – Coney Island – I think they set up shop in the early 1900s. And I found a framed painting advertisement that probably hung in a window for passersby to see. All hand painted. And it said, like, 'Two big wieners and a cup of coffee makes for a good lunch.' And it had a picture of this creepy looking guy with a hot dog. So I took that. And that has been with me ever since."
Nordstrom never even dusted it off. It remains in the same condition today, an intact memory, just as he found it.
Urban Remains is located at 1850 W. Grand Ave.; showroom at 1818 W. Grand Ave. Telephone: (312) 492-6254. Monday – Friday, 11 a.m. to 6 p.m.; Saturday 11 a.m. to 5 p.m.; Sunday 12 p.m. to 5 p.m.
6 Pieces From Eric Nordstrom's Private Collection: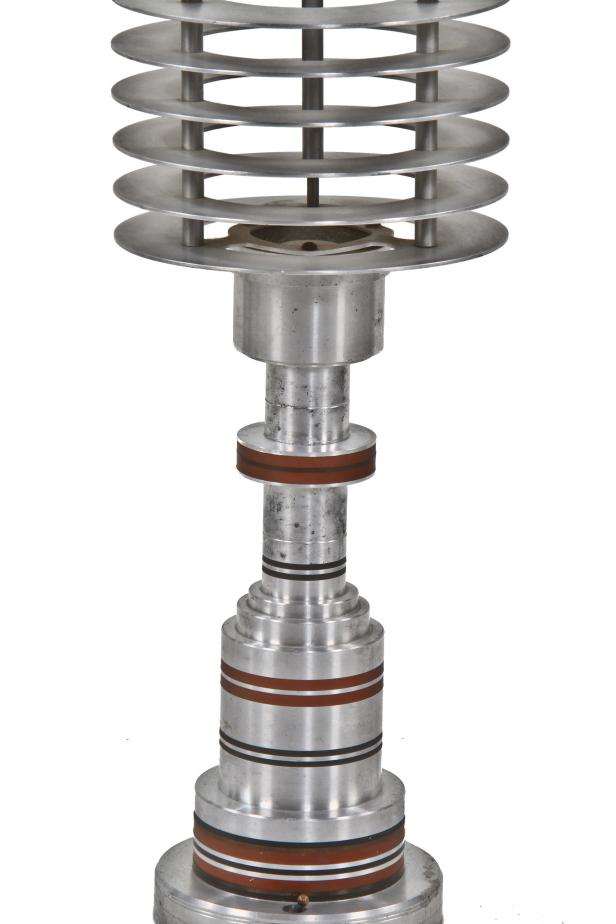 Original Iconic American Art Deco Machine Age Desk Lamp
Exceptional museum-quality c. 1930s machine age aluminum and bakelite table or desk lamp designed by the highly regarded industrial designer Walter von Nessen. Comprised of finely machined stepped and turned aluminum rings or discs accentuated with narrow bands finished in enameled black and burnt orange bakelite. The lamp is surmounted at the top by a shade composed of six equally spaced horizontal discs or rings, separated by metal tubular rods.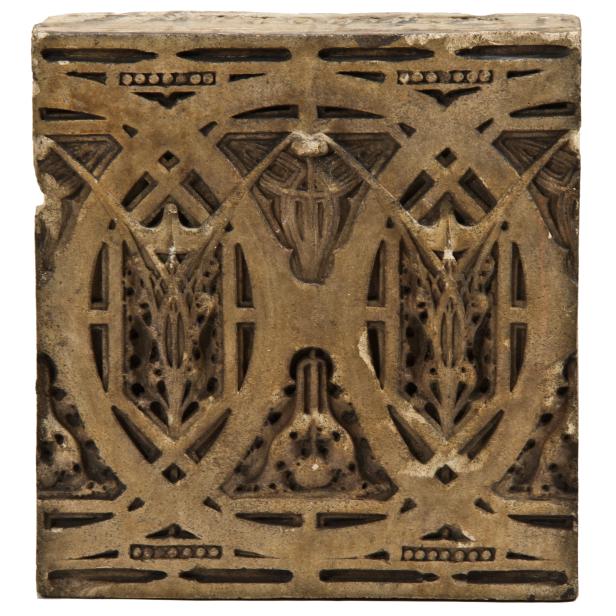 Original Exterior Francis Apartments Ornamental Terra Cotta Panel
Original buff-colored vitreous ornamental terra cotta exterior string course panel salvaged from the (non-extant) Francis Apartments in 1971. The South Side Chicago Francis is one of two middle-income housing projects executed by architect Frank Lloyd Wright in Chicago in 1895.  The intricately detailed and strongly geometric design features overlapping circles containing highly stylized and naturalistic floral ornament heavily influenced by his mentor Louis Sullivan.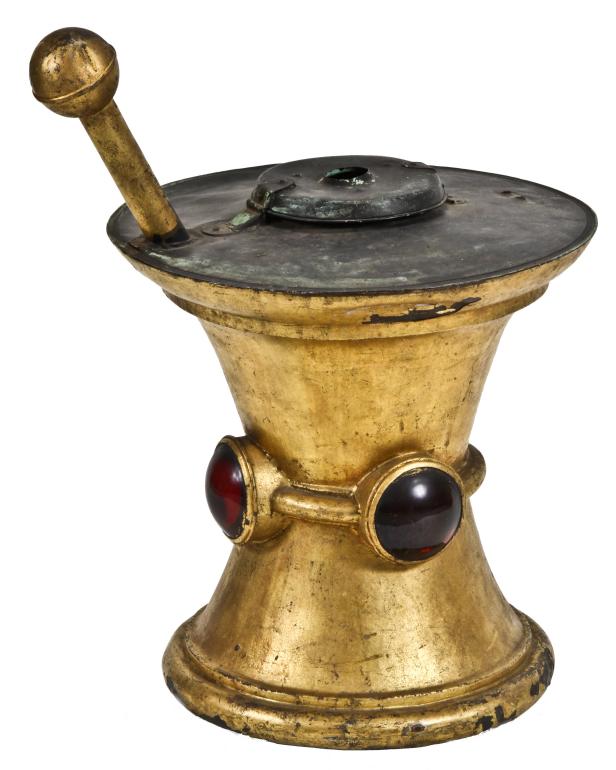 Gilded Wrought Copper Druggists' Mortar and Pestle Trade Sign
Very rare and amazingly intact late 19th-century wrought copper exterior building apothecary mortar & pestle trade sign. The old gilded finish is largely uniform, with an allover crazed finish. The midsection contains three massive ruby red glass lenses that were likely illuminated during the evening hours. The massive druggists' trade sign was likely mounted against the building's facade with a large pole mounted from the underside and a protruding bracket on the topside. Attributed to F. McLewee & Sons, New York, N.Y.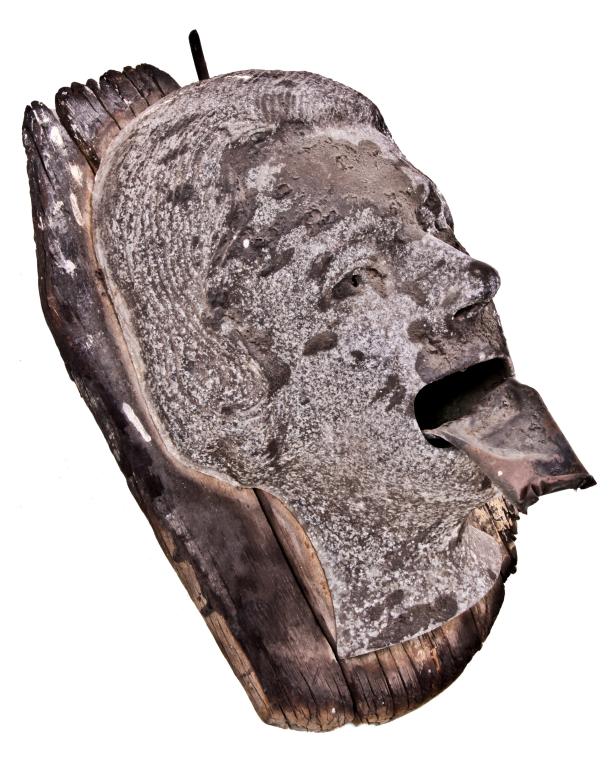 Chicago Great Fire Residential Figural Gutter Spout Burned Relic
Stunning, one-of-a-kind c. 1871 Chicago Great Fire badly burned relic in the form of residential figural gutter spout cast in zinc or "spelter." The female quasi-grotesque mask or canephoraesque head remains largely intact with most of the black enameled finish burned off. The fire clearly burned through the exterior clapboard, but left at least some of the wood plank sheathing intact, where the reinforced copper gutter base feeds into the end spout. A rare and historically important relic, passed down through three generations before being released into public hands. Measures 13 x 6 x 10 inches.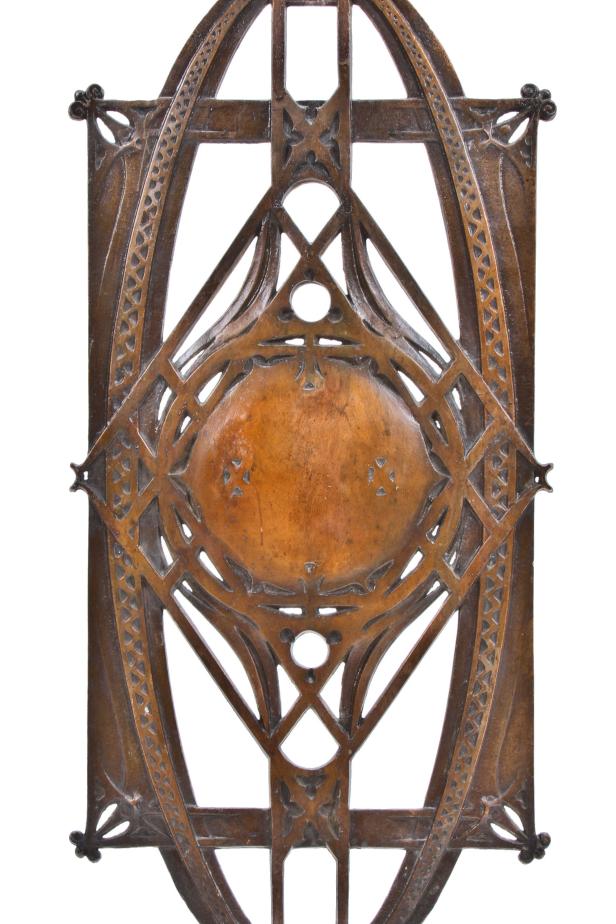 1894 Ornamental Cast Iron Chicago Stock Exchange Balustrade
Between 1881 and 1895 Louis Henry Sullivan and engineer Dankmar Adler designed a series of office towers, including the Chicago Stock Exchange. This historically important late 19th century ornamental cast iron interior staircase balustrade was salvaged from the building in 1972. The completely intact, straight section panel contains a nicely aged, uniform copper patina. Fabricated by the Winslow Bros., Chicago, between 1881 and 1895.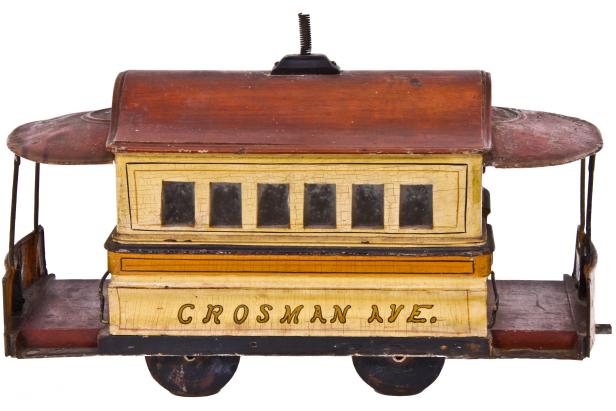 1892 Museum Quality American Folk Art Hand-Crafted Street or Trolley Car
Remarkably rare and highly individualistic late 19th-century American folk art small-scale or miniature city street or trolley car. The hand-crafted trolley was meticulously assembled in January of 1892 by O.R. Jones of Youngstown, Ohio for son H.O. Jones and later presented to grandson William S. Jones in 1934. The delicate but completely intact street car is comprised mainly of wood with tin roof and heavy gauge metal wire used for supporting the overhangs and handrails.